Discovered in May 1992, during a joint survey carried out by the Ministry of Forestry of Vietnam and WWF in the Vu Quang Nature Reserve (north-central Vietnam), Saola still remains almost as elusive today. Often called the Asian unicorn, little is known about the enigmatic Saola in the two decades since its discovery. Saola is one of the rarest mammals in the world found only in the remote mountainous region of the Annamite Mountains of Vietnam and Laos.
Saola has the length from 1.3 to 1.5 m (51 to 60 inches), its height about 0.9m (approx. 35 inches) and its average weight about 100kg (220 Ibs). Saola has dark brown fur, and could be recognized by two parallel horns with sharp ends, which can reach 51cm (20 inches) in length in both males and females.
The discovery of this long-horned antelopes (cattle family) was considered as a significance event in scientific field because for the last 100 years, scientists have only observed five large mammals. Therefore, it was considered as one of the key findings of animals in the 20
th
century.
Currently, experts have not yet determined the exact number of Saola in the wild. However, we could assert that this species has to face to many threats related to habitat loss or poaching. In fact, Saola could be trapped by snares of deer, wild boar, etc.
After 15 years of searching in the wild, in Sep 7, 2013, a camera trap of WWF and Quang Nam Forest Protection Department had captured an image of a Saola moving along a stream in a small valley of a remote area in the Annamite range. The remarkable discovery of Saola has aroused a new hope for conservation of this species.
Supporting WWF-Vietnam's Saola conservation work in here.
What is WWF-Vietnam doing?
Since the discovery of Saola, WWF has been involved with the protection. At the end of the 2000s, WWF has supported in the establishment of protected areas for Saola. After many efforts, WWF has successfully advocated the Government of Vietnam to establish two Nature Reserves in the Annamite area – Saola's home. In 2010, Saola Nature Reserve in Hue province and a part of Bach Ma National Park was designated as a specific area for Saola's conservation. In 2011, the People's Committee of Quang Nam province decided to establish Quang Nam's Saola Nature Reserve. These three areas would connect to create a vast habitat area to protect this species.
Since 2010, many activities have been implemented to support Saola's Nature Reserves in protecting and researching of biodiversity such as:
Forest patrol: will be carried out by forest guard teams, which were established by WWF, and official rangers. Their main duties are to destroy animal traps and illegal hunting camps, rescue trapped wild animals and take care of them before releasing to the wild.
Biodiversity research: WWF's camera traps will be set in many areas in forests to record images of wildlife animals. Besides, WWF staffs will trawl tropical leeches to find any clues of wild animals' traces of DNA. According to researches published, bloodsuckers could store DNA from their meals for several months, therefore, scientists hope to reach to a more efficient way to gauge biodiversity.
Raise public awareness: with so many endeavors of WWF to raise people's awareness, the biodiversity conditions have obtained some very first successes with the observation of many rare species such as Giant muntjac, Truong Son muntjac, bear, apes, etc. These successes could be considered as an indicator of conservation efforts of WWF.
Supporting WWF-Vietnam's Saola conservation work in here.
Saola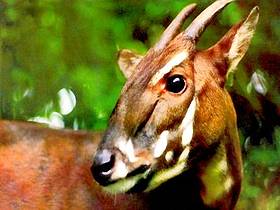 Scientific name: Pseudoryx nghetinhensis
Height: average 90 cm (33 inches) at the shoulder
Weight: 80 - 100kg (176 – 220 Ibs)
Habitat: Evergreen forests with little or no dry season
Characteristics: two parallel horns with sharp ends, which can reach 50cm (20 inches) in length

Saola are found only in the Annamite Mountains of Vietnam and Laos. They are called as the Asian Unicorn.
Currently, biodiversity experts have not yet determined the exact number of Saola in the wild. This rare species is under many threats due to habitat loss and illegal hunting.